Get Started for FREE
Start with a 14 days full featured account.
No credit card required.
SMB plan
Includes 25 Users
$650/month
(Paid annually)
---
Unlimited PitchLinks / month (Inaugural Offer)
40 GB Storage
80 GB/Month Bandwidth
Unlimited
---
Get Started
For Custom Plans
Solo User / Startups / Enterprise / Agency / Annual.
For Additional Units
For additional users, Pitch.Links, storage and bandwidth.
Frequently Asked Questions
Do you restrict features with a free trial?
No. You get a full featured trial account for 14 days.
What is a PitchLink?
A single pitch sent to single or multiple contacts of a company is considered to be a PitchLink.
Do you have a mobile app for viewing a pitch?
PitchLink is completely mobile-optimized to ensure it is friction-free. You can do everything from within your mobile browser. The use of an app restricts the ability of your customers to immediately engage with your pitch unless they are in front of their computers.
Do you have a setup cost?
Absolutely not. There are no commitments, no setup fees, and no hidden gimmicks with our plan. You have the option to cancel at any time.
How is data protected within PitchLink?
All data transfer is encrypted — absolutely nothing goes over the network without encryption. We monitor the security environment regularly and turn around quick fixes to new issues and security holes as they are discovered.
Security - Is your hosting secure?
We are hosted on Amazon's AWS. AWS explains their security policy and standards here: https://aws.amazon.com/compliance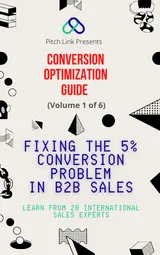 Conversion Optimization Guide
Fix the 5% Conversion problem in B2B Sales. 28 International Experts tell you what is wrong with your conversion process and how to fix it.
Learn from – Fred Diamond, Bob Apollo, Art Fromm, Patti Pokorchak and Brad Jeavons (Volume 1 of 6)